Motorcycle restoration is an artform that takes passion and pure determination. If a skilled support team is going to be part of that journey with you, they better be just as passionate and determined as you are to bring your bike back to life.
This deep-rooted passion propels every biker forward, fueled by the euphoric sense of freedom and the joy of the open road. There's an unbreakable bond between a biker and their machine, one that intertwines an emotional, cultural, and historical significance. From daily riders constantly on the road to bikers that find the perfect moments for a getaway, and from international collectors to show bike aficionados with prized gems in garages and showrooms, we all have one thing in common, the passion that drives us forward. We understand, at Biketailing we have over 40 years of experience with specialized motorcycle restoration and detailing, and our passion for bikes has only grown.
Restoring a motorcycle that means so much to you is pure art, and something so valuable should be preserved as the masterpiece it is. As experts, we would love to share the process to help bikers understand what the restoration journey looks like and what separates a quick repair from a full-blown motorcycle restoration.
Every restoration is unique…
You may need to repair a motorcycle that has deteriorated over time.
A beautiful bike might have gone through something unexpected like a deep scratch, over spray, or even spray paint like the gorgeous Hayabusa below.
One part of the bike may require a lot more attention, such as a motorcycle fuel tank restoration, an engine or chrome restoration, needing to remove rust from motorcycle, or just that annoying motorbike chain rust.
You may have a particular antique bike restoration or vintage motorcycle restoration in your hands, you may even be delving into a complete vintage motorcycle repair.
Maybe you looked for a specific motorcycle for restoration and this is a project at the highest level, a full motorcycle rebuilding project to bring every part back to its glory days.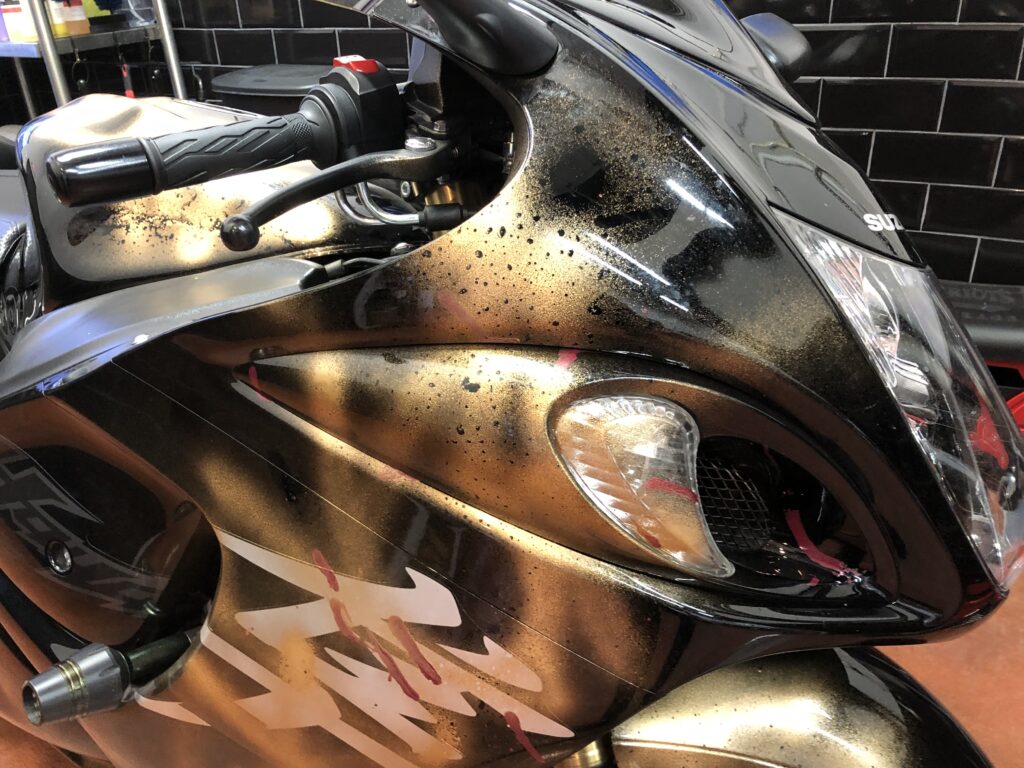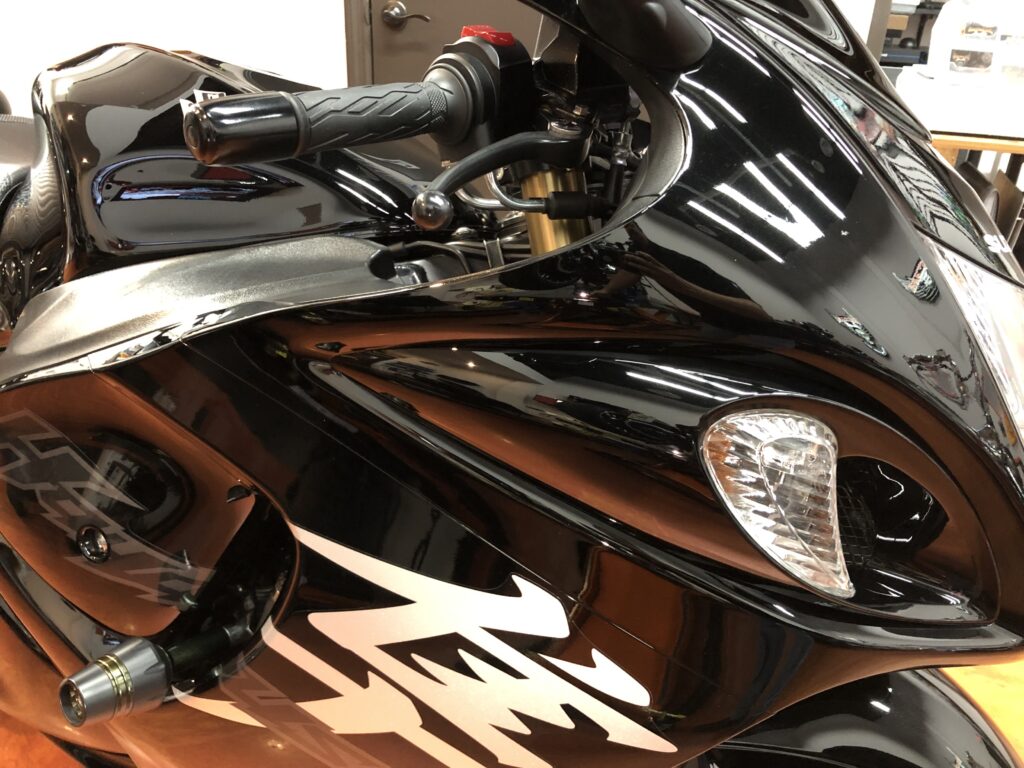 Any motorcycle make can be restored – Honda, Harley Davidson, Suzuki, Yamaha, BMW, Triumph, MV Agusta, even custom builds. Regardless of the extent or type of restoration, it always demands a professional, detail-oriented approach to bring back to life every element of a motorcycle to its original condition and safeguard surfaces from potential future damage. Motorcycle restoration cost will vary, but the process should always include a thorough evaluation, comprehensive restoration, and preservation techniques to make results last for years.
Let's explore the bike restoration process in detail to see what separates just a quick repair from a full-blown restoration artform.
#1 Evaluation Before Starting a Motorcycle Restoration
The best way to restore a motorcycle is to address the state of each section individually to ensure that no detail is overlooked. A biker can evaluate the bike on their own, but for a more detailed analysis a professional should get involved for expert guidance. The team at Biketailing Specialties provides a complete diagnosis of the condition of each part of the bike and provides a list of recommended motorcycle restoration services for the customer to choose from.
How should every part of the motorcycle be evaluated?
Paint: evaluate scratches, over spray, cement residue, bug scarring, gas spill stains, etc. Taking into consideration the thickness of the clear coat and depth of scratches will help determine the level of paint correction necessary.
Front End: if the bike is used regularly, this portion is exposed to the elements the most and is expected to see a higher level of deterioration depending on mileage and time. The correction necessary is also influenced by the material – chrome, powder coated, aluminum, etc.
Engine and Engine Fins: as time passes the finish of the engine starts to change little by little, causing complete discoloration. Contamination also creates a level of oxidation on all bolts and washers. Several levels of decontamination may be necessary to bring back the original color and finish.
Exhaust Pipes and System: stains and aging can damage the finish or cause rust on motorcycle exhaust. Whether it's a slip-on or a whole exhaust system, the severity of the damage is evaluated to understand how to redo the finish.
Rims: if the bike was stored or parked outside for a long time, stains may be severe due to humidity and the exposure to the elements. If the bike is used but is neglected, the front rim is usually worse than the rear and may require a more thorough motorcycle rim restoration.
Stop and Turn Signal Lenses: the dullness level and possible scratches on the lenses varies and influences method of correction.
Windshield: delamination, scratches, and stains are evaluated to determine the motorcycle windshield restoration method.
All Metals, Plastics, and Leather: every type of material on a motorcycle may reacts differently to deterioration, this H-D Street Glide had leather that was stiff and dry and speakers were rusty and not working like they used to.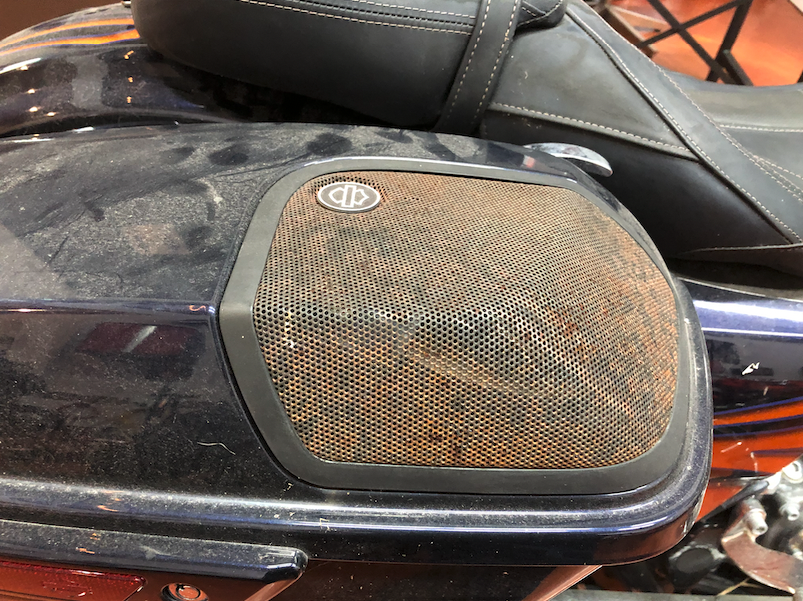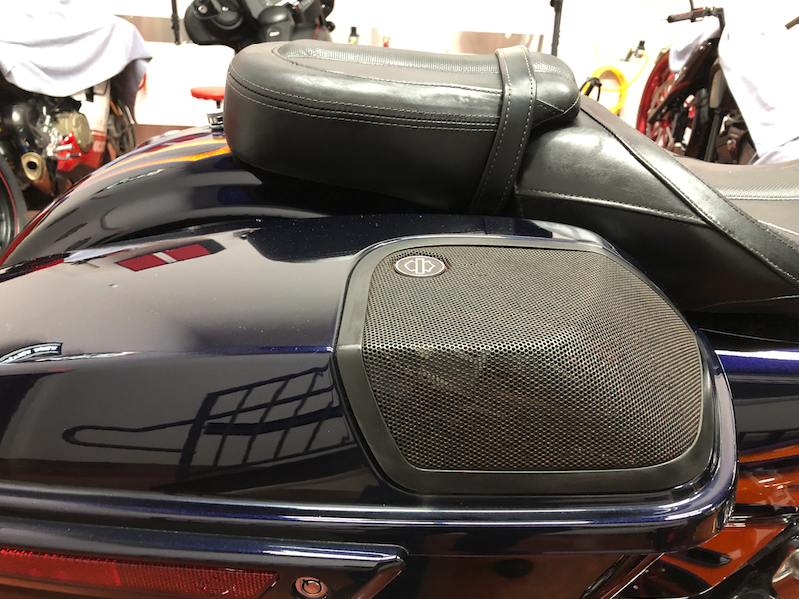 #2 Let the Bike Restoration Begin
A harmonious blend of specialized decontamination and correction techniques, meticulously executed without compromising the motorcycle's cherished history. After professional evaluation of every part of the motorcycle, a biker decides the combination of restoration services they would like to have done and let the real motorcycle restoration begin.
Disassembly if necessary: depending on the services needed it make require removing certain parts. From basic components like removing saddle bags, tour packs and windshields, to more complex components like removing the whole seat from the bike to treat the leather and the paint separately without missing any areas.
Motorcycle detailing and restoration services:
Chrome and Aluminum Polishing: chrome falls victim to surface rust, stains, scuffing, and light scratches. Even though aluminum is a rust-proof metal, it is still prone to pre-rust. This process will remove tarnish, rust, water stains, chalking, heat discoloration, and protect the polished chrome or aluminum.
Paint Correction: this is a step up from polishing, a more aggressive agent is used. Perfect for correcting light- to medium-depth scratches, oxidation, and swirl marks by slowly polishing away microscopic layers of the clear coat.
Engine and Engine Fins Correction: eliminates aging of the engine finish and remove rust, stains and contamination accumulated over time to bring the engine back to its original color.
Rust Removal: something as simple as a little rock hitting the chrome plating can start the rusting process from underneath the metal. In more extreme cases the bike may have been exposed to high levels of humidity. A combination of techniques is used to remove rust from motorcycle depending on the severity, different grades of polishing and correction to remove oxidation from all surfaces.
Chip and Scratch Repair: chipping, deep scratches or road rash can affect the reflection and beauty of your paint, like the H-D Trike in the image below. Many bikers may quickly react by thinking repainting at a body shop may be the only option, but there are other professional motorcycle detailing techniques that can avoid that completely.
White Wall Tire Stain Removal: this process is used to remove brake dust, road grime, tar, and grease to bring those white wall tires back. Check out the images of the white wall tires before and after restoration of a 1968 H-D Generated Shovelhead FLH below.
Motorcycle Dry Ice Blasting (Cryo Detailing): this is a very specialized and non-abrasive process to remove contaminants. Dry ice sublimates into a harmless natural gas, leaving no water, moisture or residue and no waste.
Repainting or Re-Upholstering: depending on the severity of the restoration, some bikes may require having a portion re-painted or the seat re-done.
Electrical Repairs: if there is an electrical issue some bikes may need to have a more thorough electrical evaluation to check and re-route electricity as necessary.
Mechanical Repairs: when dealing with a motorcycle that has been in an accident or suffered extreme damage, the restoration may require a more thorough mechanical diagnosis from specialized motorcycle mechanics.
Reassembly if necessary: after every portion of the bike was worked on separately as needed, everything is brought back together and let the preservation techniques begin. Sometimes preservation techniques may also be done before reassembly.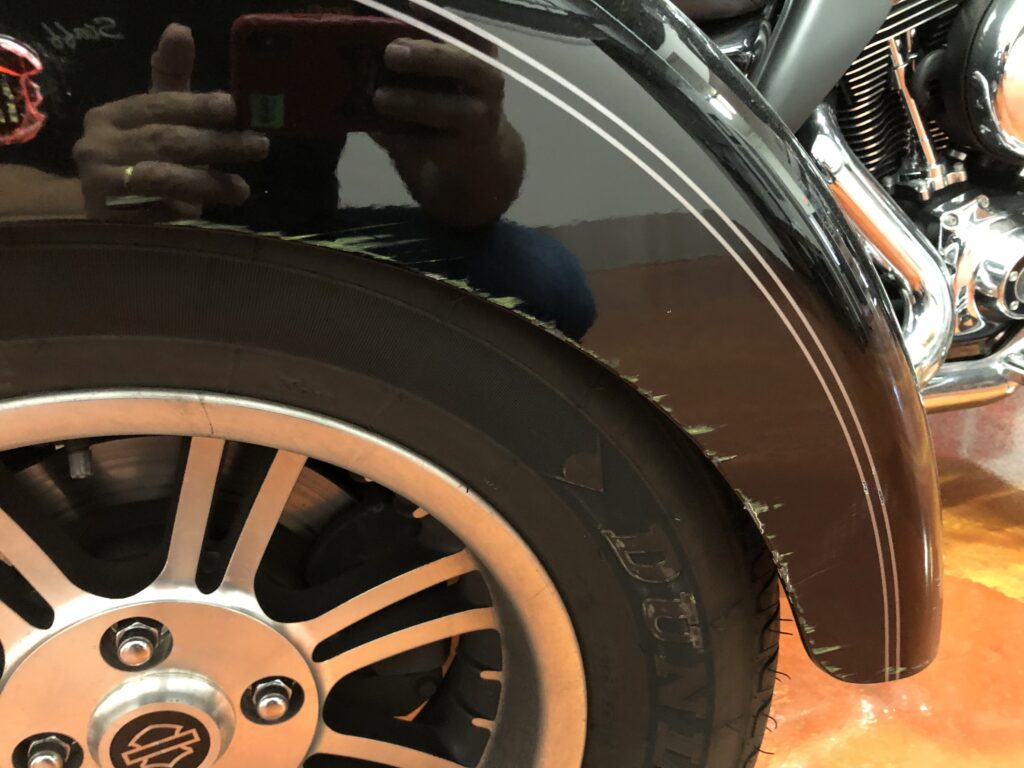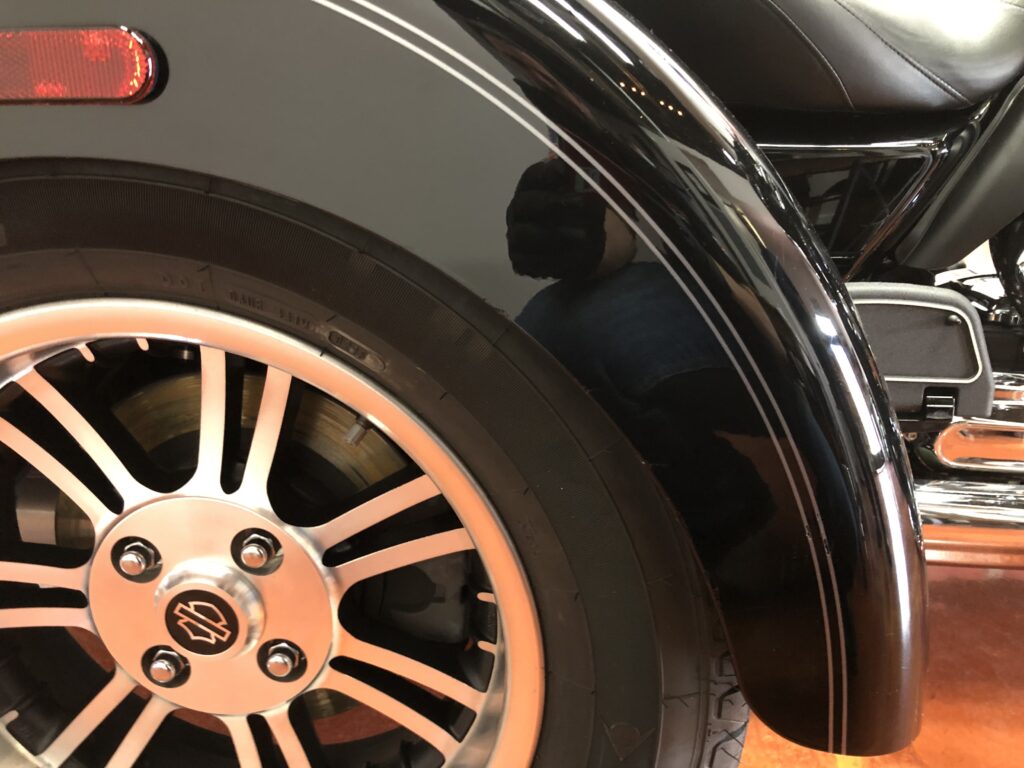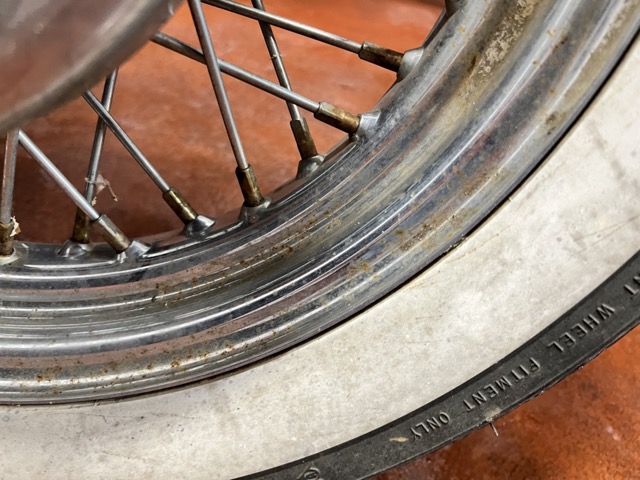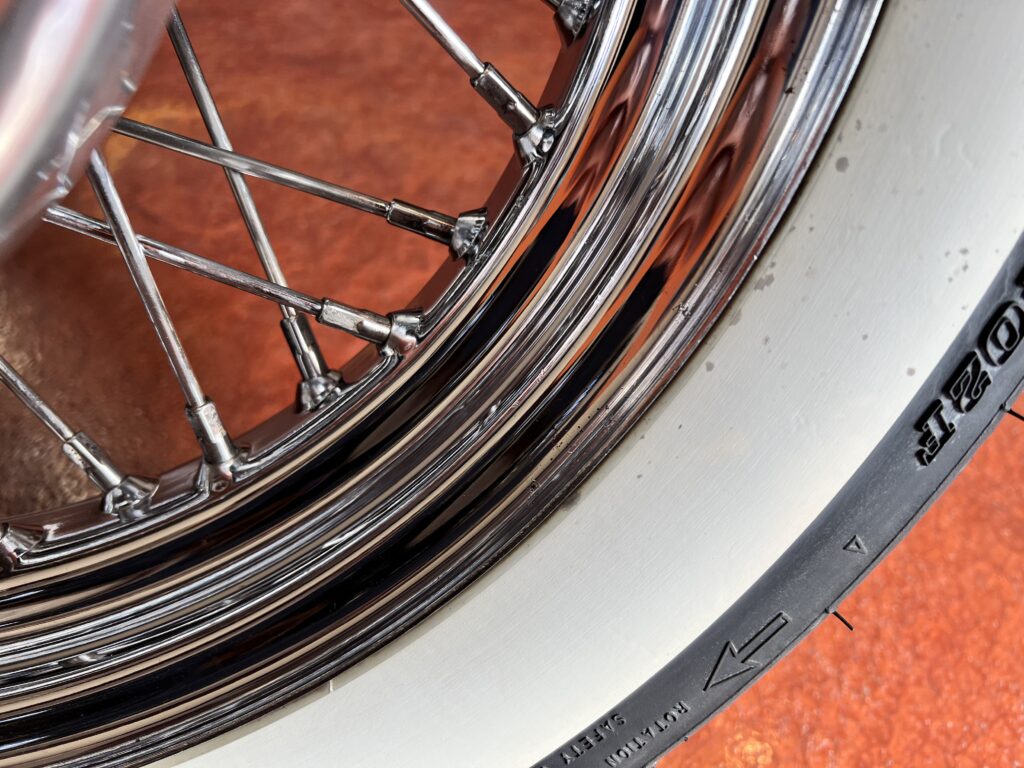 #3 Preservation of Every Restored Surface
After bringing the bike back to life, a tailored preservation process must also take place, safeguarding the motorcycle from further deterioration.
Long-lasting protection is provided by professional detailing techniques, such as…
Ceramic Coating: the gold standard for motorcycle protection. A thin, transparent layer that acts as a shield against UV rays, contaminants, and minor scratches with amazing hydrophobicity reducing the level of static and helping keep the bike clean for the longest period. A well-applied ceramic coating can last for several years, providing long-term protection that can last 1 year, 3 years, and even 5 years. Gyeon is known as the industry leader in ceramic coatings. The correct environment during installation and consistent post-installation care can even make a Gyeon ceramic coating last forever. The correct environment for installation requires maintaining levels of humidity below 50% and zero dust during the curing process, a professional studio with atmosphere control system meets these requirements, and by enlisting the expertise of a professional detailer to guide you through post-installation care, you can extend the longevity of a Gyeon ceramic coating indefinitely.
Wax and Sealants: While not as long-lasting as ceramic coatings, waxes and sealants offer good protection. They provide a glossy finish but require more frequent reapplication every few months.
At home and on the road, protection can be extended by learning simple techniques to do yourself. There are golden rules and certain tips to follow while at home and on the road to help maintain your restored beauty. At Biketailing, we provide our customers with specific tips based on the work done to their motorcycle to help extend the life of ceramic coatings and avoid future paint and chrome corrections. Some of these tips include:
Antique Bike Restoration Requires Special Attention
Although every motorcycle must be treated with extreme care, to restore vintage bikes every person involved must understand the special level of attention needed. These classic, vintage, or antique bikes encapsulate decades of history in every single component and surface. The name of the game is preservation, preservation, preservation in every single step. As an example, check out this classic restoration of a 1968 H-D Generated Shovelhead FLH, a special project for a war veteran coming home after 5 years of having the bike in storage.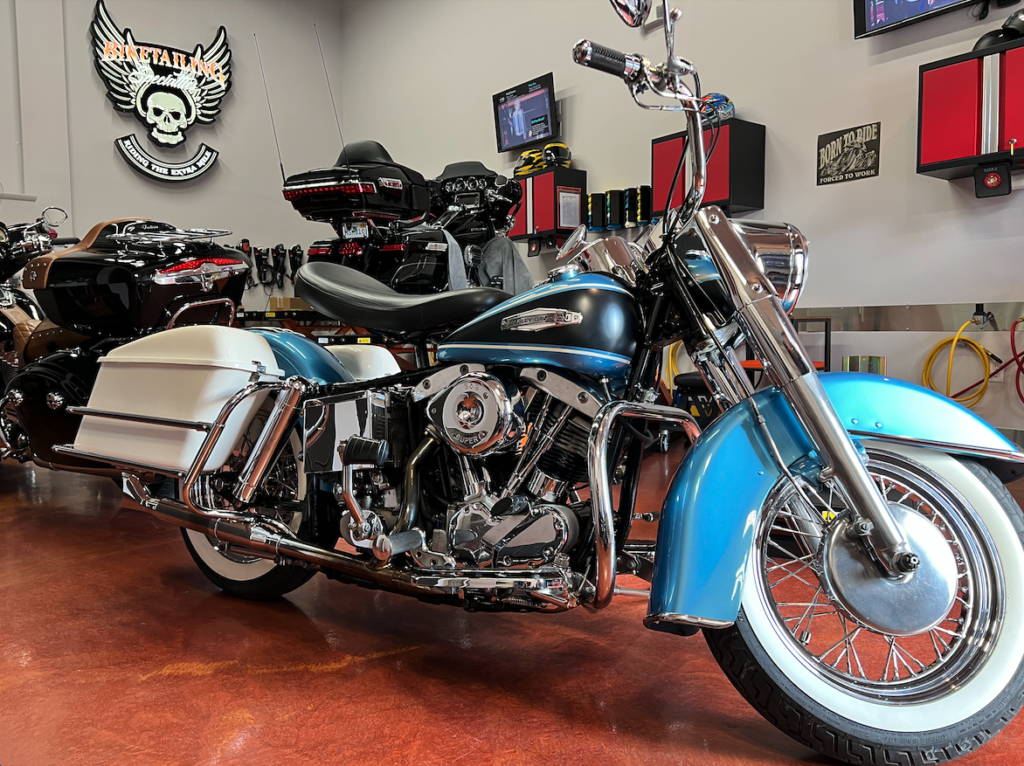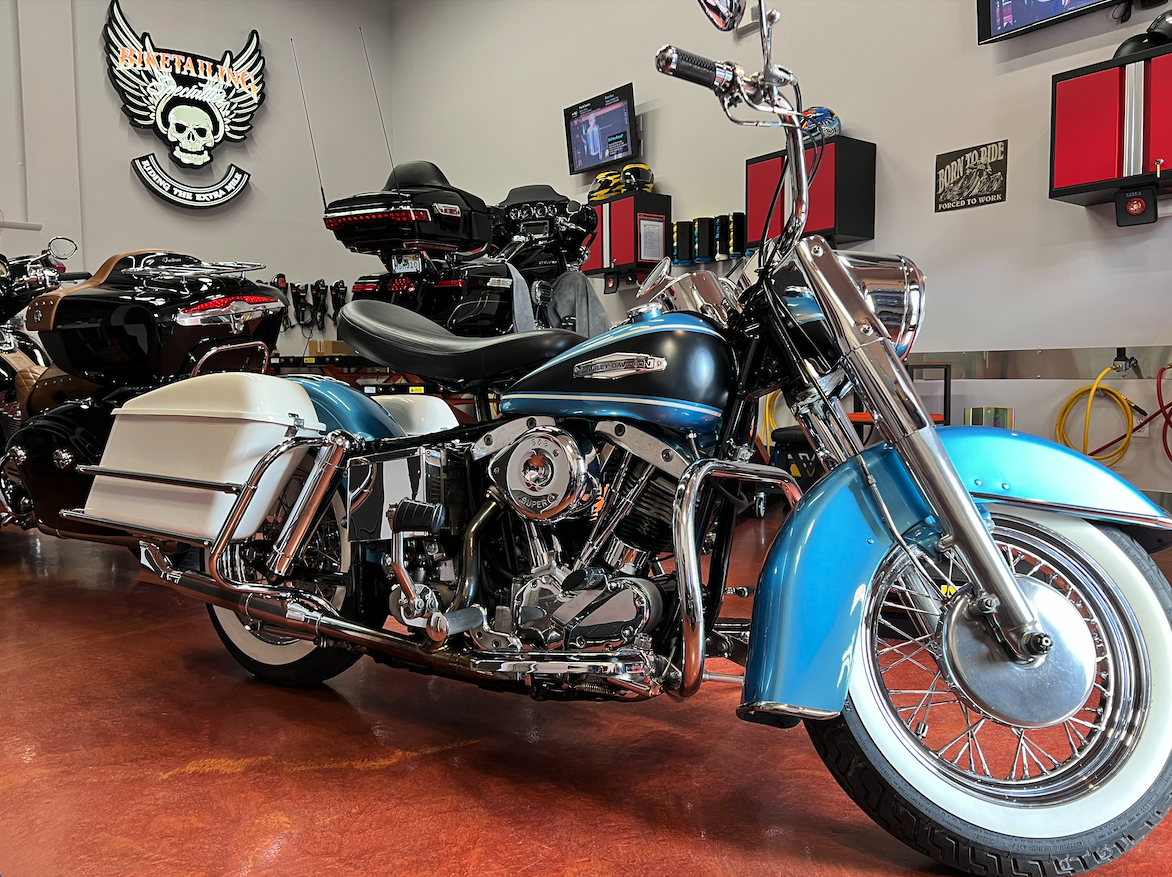 Biketailing is Your Motorcycle Restoration Partner
We are the most specialized motorcycle detailing and restoration studio in the industry, based in Miami, Florida. Biketailing was born from a passion for motorcycles and an obsession for precision. We have over 40 years of experience and are artists in motorcycle restoration. We are the only motorcycle studio that is a Gyeon-certified detailer, and our professional motorcycle detailers are certified by the International Detailing Association. The best techniques perfected specifically on motorcycles.
Motorcycle restoration is an art, and everyone involved must be an artist along with you in every step of the journey. We are proud of every single restoration project we are part of alongside passionate bikers looking to bring all types of motorcycles back to life.