A war veteran's motorcycle was in storage for 5 years and required heavy restoration to bring back to life.
This motorcycle was a very special project for Biketailing, as its owner is a war veteran with more than 10 tours under his belt. That's over 30 years of dedicated service to protecting our most cherished values: our freedom and way of life. People like him are the reason the rest of us can live in safety and security, and we're deeply grateful for their sacrifices.
When he reached out to us, explaining that he was back home and wanted to restore his motorcycle, which had been in storage for 5 years, we knew this project was special. He shared the story of how he had painstakingly put the bike together over several years, searching for original parts that were not only rare but also in a condition to make the motorcycle function as it should. His dedication and commitment moved us, and we were determined to give him back a motorcycle worthy of the level of sacrifice, respect, and gratitude that we feel for him.
Motorcycle Restoration: A Tribute to a War Veteran
Our mission began with the utmost care and precision. We knew that this motorcycle was not just a machine; it was a symbol of heroism and resilience.
We wanted it to reflect the strength and character of its owner. We conducted a thorough decontamination, removing years of aging and stains. The restoration process was extensive and included:
White wall stain removal
Paint correction
Chrome correction
Chrome ceramic coating
Aluminum correction
Rims correction
Engine decontamination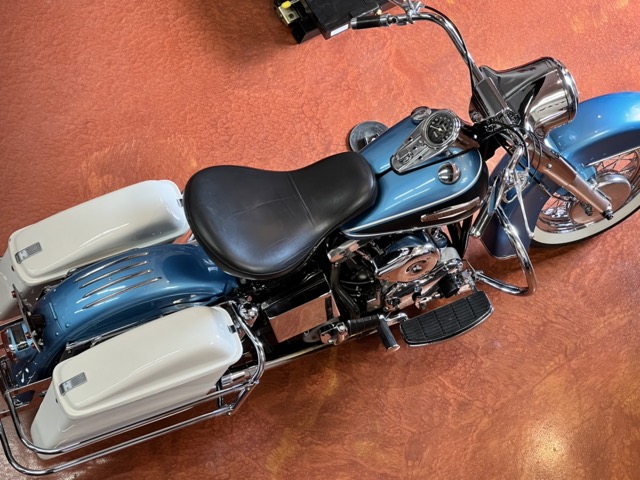 "Was a little concerned about someone else messing with it. Until I talked with Roman, he not only loves bikes as much as I do he treated me like family. The job he did on my bike was simply amazing… He made my girl look as good as the day I finished my restoration."

Tony
The Result Takes Us Back to the 60s
After 5 years of general deterioration, we made his motorcycle look like it had just left a showroom in the 60s. The result was a motorcycle that maintained its original finish, but free from the marks of time and back to its original colors.
At Biketailing, we are deeply honored to have played a part in this project. It's stories like these that remind us of the true meaning of our work – not just restoring motorcycles, but restoring faith, preserving legacies, and paying tribute to those who have given so much for all of us. We salute our war veterans and look forward to many more journeys on this beautifully restored motorcycle.